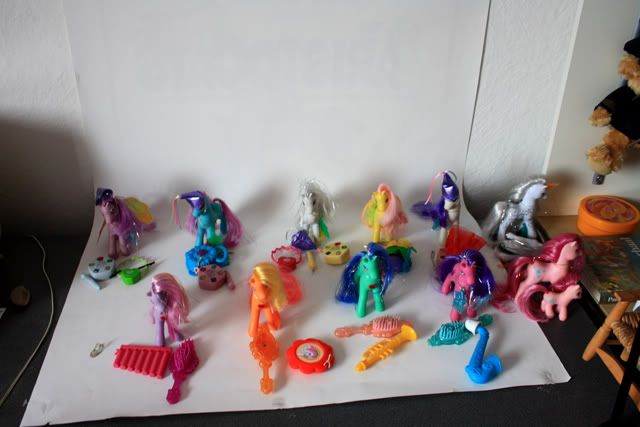 I finally found time to get back to working on the
new gen2 site
again! Now the coding for the site still isn't finished yet so I'm still kind of limited in what I can uploade to the site for now, but it's good to get back into things.
I uploaded some ponies over the weekend (especially in the later years, some royal ladies, some princesses) and I was kind of shocked at how bad the quality of the pictures was. I took them with my older camera. I managed to photoshop some into looking better. Thankfully I now have access to an amazing DSLR camera (and hopefully I'll have my own soon!!!) so I can make better pictures. The ponies above are waiting to be photographed and expect these to have higher quality pictures on their profiles. I hope I can get them on the new site today or tomorrow.
As for the new features: we're still working on a lot of things. An advanced search will be implemented where you can search on, for example, colour or symbol. There will also be more general information like an overview of each year at the top of each year page. I can't spoil much more, but it will be great!
So feel free to look around the beta site! Just make sure to keep in mind that a lot of things are still either missing or not working. Of course I'm always open to suggestions and questions so do let me know if anything comes to mind!
Also, I am looking for people willing to help on a few parts of the site I can't write myself (such as tutorials on, for example, replacing eye gems), so if you think you have something that can contribute to the site, do let me know!